Silverbulletday
It's easy to see why Silverbulletday (SBD) was named Eclipse Champion two year-old filly. With wins in G1 Fillies Breeder's Cup Juv., the Golden Rod Stakes, the G3 Debutante Stakes, the G2 Sorrento Stakes, ect, demolishing good fields by 10 lengths, setting record times, and earning $1,100,000 after her two year old season (to just name a few of her accomplishments). This set her apart from the rest of her division as a two year old. What she has proved now, however, is that she is also a champion three year old. Racing in 1999, all in stakes races, she was almost perfect. Her only blemishes came June 5th in the G1 Belmont Stakes, third leg of the triple crown. Going further than ever before and competing against boys for the first time in the 1 ½ mile race, she pressed the pace in the first part, but tired towards the end and faded to fifth. Later, on a sloppy track in the G1 Beldame S. and then again in the Breeder's Cup Distaff, SBD, a tired horse after a long campaign, did not make a trip to the winner's circle.

Those were the only races she didn't finish first, though, and that's quite noteworthy. Back-tracking to the beginning of 1999, we'll go to the Fairgrounds, Feb. 26th, in the 1 1/16 Devon Dale Stakes. She finished first by 2 ¼ lengths in a time of 1:44.56. Another win at the Fairgrounds in the G3 Fairgrounds Oaks, she proved herself on a sloppy surface, demolishing the six other fillies with a time of 1:44.99. Next, at Keenland, in the G1 Ashland, she chopped almost three seconds off her previous best, going 1:41.72 and winning by a widening 7 lengths on a muddy surface. Her next time out, Bob Baffert (trainer) and Mike Pegram (owner), opted to run her in Kentucky Oaks (the filly version of the Kentucky Derby) over the classic, first leg of the triple crown, Kentucky Derby. The Kentucky Oaks was a romp for SBD, with a hand-ride and going 5 wide in the final turn, she was clearly the best, winning by two lengths and racing 1 1/8 mile in 1:49.72. The G1 Black Eyed Susan, was her next start. She gained a wire to wire victory with an improved time of 1:47.83. Then came the Belmont Stakes run, the first of her few losses. She made a wonderful comeback, though and in her old style and form, won the G2 Monmouth Breeder's Cup Oaks by 5 lengths, going 5 wide and posting a time of 1:43.03. SBD wiped out any doubts of her greatness, when she finsihed first by 9 lengths in the 1 1/4 mile G1 Alabama Stakes. Following a slow pace she made an incredible run in the stretch to finish in 2:02.71. In her next start, the G1 Beldame Stakes, SBD suffered her first loss to fillies of the year on a sloppy track, finishing second to Beautiful Pleasure. The final time was 1:47.74. On the big day, in the G1 Breeder's Cup Distaff, SBD, after a year-round campaign, seemed to be tailing off, running a flat race and finishing 6th of 8. Beautiful Pleasure ran the 1 1/8 winning time in 1:47.56.

After this remarkable season, SBD was unanimously voted Eclipse Champion 3 Year Old Filly. After a year of hard racing, she surely deserved the elite award.

Silverbulletday made her much awaited 2000 debut in the Doubledogdare S. on April 19. After a long lay-off she proofed to be the victor over a game Roza Pobata with a time of 1:43.76. SBD finished an uncharcteristic 5th in the G2 Louisville Breeders Cup Handicap. The winning time was 1:42.99. On June 3rd, in the G3 Fleur de Lis H., SBD, setting the pace, finished 2nd to a very impressive Heritage Of Gold. Not only did Heritage of Gold run fast, she also broke the stakes record. The 1 1/8 mile race was run in 1:48.26. SBD could not get by a very game Lu Ravi in the G2 Molly Pitcher Breeder's Cup H. After being trapped along the rail for most of the race rallied through the stretch and ended just a jump behind the older mare.

To join SBD's fan club, email SBDFanClubPrez@aol.com.

~~~~~~~~~~~~~~~~~~~~~~~~~~~~~~

Excellent Meeting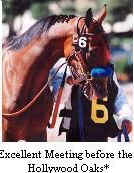 Excellent Meeting is a horse that is somewhat trapped in the shadow of her great stablemate Silverbulletday. The 1996 bay daughter of sire, General Meeting and dame, Fitted Crown, did not win her first time out on May 24, 1998, going 4 1/2 f. Instead, she finsihed second to Crnic Trnche. Going half a furlong longer on her second try, she won her maiden special weight. She finished 3rd in the G2 6 1/2 f Landualance Stakes, beaten by Hookedonthefeelin and Box Ofc Girl. Her next time out, in the 6 1/2 f. G2 Sorrento Stakes, she was beaten two lengths by Silverbulletday.

In the G2 Del Mar Debutante Stakes, she began coming into her own, finishing in front of the respected likes of Antahkarana and Colorado Song by 5 1/2 lengths. She again finished first, winning the 1 mile G1 Oak Leaf Stakes in her next race. Excellent Meeting, the filly who proves the statement "the longer the better" finished only half a length and closing behind Silverbulletday in the G1 Fillies Breeder's Cup Juvenille. Her jockey, Kent Desormeaux, said, "We ran out of ground." Her next start, going 1 1/16 miles in 1:42.14 on Dec. 13, she won easily by six lengths.

She started the new year off with a bang, winning the G1 Las Virgenes Stakes with a time of 1:35.35 on Feb. 13. A win in the G1 Santa Anita Oaks with a 1:43.26 time and the Fantasy Stakes (1:42.73) contributed to the decision, made by trainer Bob Baffert, and owner, Golden Eagle Farm, to run her in the classic Kentucky Derby, the first time out against boys. In the 19 horse field, Excellent Meeting had a terrible trip. In the final part of the race, however, Excellent Meeting made a remarkable move, going from one of the last horses to a closing 5th. A better trip and more ground, and it may have been a different story for Excellent Meeting. Because of the exceptional finish, her connections decided to run her in the second leg of the triple crown, the Preakness Stakes. In this race, sadly, she was pulled up and did not finish because she bled. A month rest, and improved health conditions, and Excellent Meeting ran in her first race since the Preakness and finished first by a neck over Colorado Song in the G2 Princess Stakes going 1 1/16 miles in a quick 1:41.73. Her next start, in the G2 Hollywood Oaks, she finshed a very game second to Smooth Player, especailly considering she was blocked in by other horses, and unable to make a move until very late in the race. In her turf debute, in the G1 Del Mar Oaks, EM finished a disappointing 9th of 10. Shortly after her finish in the Del Mar Oaks, it was discovered EM had a bone chip and was out for months.
In her first start of 2000 on May 7, EM finished a game second to Riboletta in the G2 Hawthorne H. The 1 1/16 mile dirt race was run in 1:42.2. After that encouraging performance, EM finished third behind Riboletta and Bordelaise in the G1 Milady. EM put in another third place run in the G1 Vanity H. behind Riboletta and Speaking of Time. The final time was 1:48.54

To get up-to-date reports of Excellent Meeting, join her fan club with an email to RealQuiiet@aol.com.
~~~~~~~~~~~~~~~~~~~~~~~~~~~~~~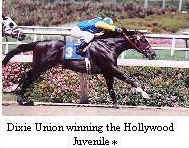 Trained by Richard Mandella and owned by Diamond A Racing Corp., Dixie Union is a three year old to watch out for. The dark bay, almost black, 1997 colt by Dixieland Band, and out of She'S Tops broke his maiden June 13 at Hollywood Park. He didn't win by a huge margin, only 1 1/2 lengths, but he traveled 5 furlongs in a quick 56.71. His next start in the G3 Hollywood Juvenile was not a wide-lenthed victory either, but the way he won was impressive. Throughout the race, he dueled with Exchange Rate, then dropped back and looked like a beat horse. He dug in gamely, though and won by 1 1/2 lengths, covering 6 furlongs in 1:09.95. Dixie Union added another tally to his record with a win in the G3 Best Pal Stakes. Once again dueling with Exchange Rate, he pulled away to win by 1/2 length in 1:16.4. In the G2 Del Mar Futurity Dixie Union suffered his first lose to Forest Camp by 5 1/2 lengths. The winning time was 1:21.67 for 7 furlongs, setting a stakes record. After his defeat, Dixie Union rebounded to defeat Forest Camp by 1/2 length and set a stakes record time of 1:35.79 in the mile G2 Norfolk Stakes. In the G1 Breeder's Cup Juvenile Dixie Union finshed a disappointing 5th of 14 after failing to rally. Anees ran a winning time for 1 1/16 mile of 1:42.29.
After coming back from surgery due to a bone-chip in his knee, Dixie Union made his first start of 2000 on May 5 in a 6 1/2 furlong allowance race facing some of the toughest sprinters in the US. The colt won impressively by 1 1/2 lengths with time of 1:15.25, earning him a 107 Breyer Speed Figure. In his next race, planned to keep Dixie from breaking down his stalls until some bigger races down the road, he finished second to Caller One. The winning time for the Laz Barrera S. was a quick 1:21.10. A neck behind Tiznow was where Dixie Union finished in the G3 Affirmed H. After stalking the pace and going 3 wide, Dixie put in a bid but could not quite get the "W."
~~~~~~~~~~~~~~~~~~~~~~~~~~~~~~

Captain Steve
From the duo that brought us horses like Real Quiet and Silverbulletday, we have another star called Captain Steve, named after a police captain that helped Mike Pegram out once in a jam. The 97 chestnut colt, by Fly So Free and out of Sparkling Delite by Vice Regent, broke his maiden July 22 at Del Mar Park in a maiden special weight race. He covered the six furlongs in 1:09.92 and driving, winning by seven lengths. In his next start, he finished third, beaten by the winner (Dixie Union) by six lengths, in the G3 Best Pal Stakes. Captain Steve finished another third in the G2 Del Mar Futurity. He was making a slow, steady gain at the end, but not enough. The winning time was 1:21.67 for 7 furlongs. Captain Steve proved his quality when he won the 1 1/16 mile G2 Land's End Breeder's Futurity at Keeneland. After an uneven trip, because of unschooled behavior, Capt. Steve pulled away driving to win in a time of 1:42.59. In the G1 Breeder's Cup Juvenile, Captatin Steve was close to a blistering pace unlike his closing style, and tired to finish 11th of 14. Anees ran the winning time for 1 1/16 mile in 1:42.29. Captain Steve did not end the year with disappointment in the Breeder's Cup, on Nov. 27 he came back to win the G2 Brown and Williamson Kentucky Jockey Club Stakes by 5 3/4 lengths in a time of 1:43.14. After his triumph in the Brown and Williamson, Captain Steve won his first G1 race in the Hollywood Futurity. After sitting back off the leaders, he drew clear in the stretch to win by 4 lengths over High Yield. The final time for the 1 1/16 mile race was 1:43.27.


Deputing as a 3 year-old, in the Capt's next start (the G2 Santa Catalina) he finished 3rd, behind The Deputy and High Yield. Baffert's confidence in Captain Steve did not waver. He had an off day and was later diagnosed with a briused hoof. Upon coming back to the racing scene on March 12, the Capt. finished another third in the G2 Lousiana Derby against stiff competition. Baffert was pleased with Capt Steve's strong finish off the lay-off and has high hopes for later down the road. In the Captain's final prep race for the Kentucky Derby, the G1 Santa Anita Derby, he finished third again. It was a good effort and a great race to get under his belt before the Derby. In the G1 Kentucky Derby, the Capt unfortunately finished 8th, then followed in the Preakness with a 4th place finish. An easy 1 3/4 length victory in the Iowa Derby put the him back on a winning track. After stalking the leaders, the Capt. charged past them and finished in 1:42.35.
To join this promising horses fan club, email Allison at parvanalp@aol.com.
~~~~~~~~~~~~~~~~~~~~~~~~~~~~~~
More Than Ready


More Than Ready is a 1997 bay colt. The Woodlyn Farm Kentucky bred, by Southern Halo, out of Woodman's Girl, by Woodman, is another very promising horse. More Than Ready had a dazzling maiden victory, winning by 7 1/4 lengths. The Todd Pletcher trained and James T. Scatuourchio owned colt's next start was May 1st, 1999, Kentucky Derby day. In front of that huge crowd, he did not disappoint. He beat the 12 horse WHAS 11 Stakes field by 4 1/2 lengths, covering 5 furlongs in 57.82. His next start came June 4th in the Flash Stakes. Diablo's Addition gave More Than Ready a run for his money (literally), but More Than Ready prevailed by a head, going five furlongs on a fast Belmont track in 57.10. More Than Ready's next time out, on July 4th, he again managed to command respect, winning the G3 Tremont S., in 100 degree heat, by 4 1/2 lengths and shattering Belmont's 26 year old track record of 1.03, running five furlongs in 1:02.56. More Than Ready reeled off another impressive victory in the 6 f. G2 Sanford Stakes, winning by 9 3/4 lengths traveling a sharp 1:09.65.
After a 50+ day lay off, because of a fever, and stretching out to a mile, MTR suffered his first defeat, placing third in the G1 Futurity at Belmont Park. Beaten by Bevo and Greenwood, the winning time was 1:36.16. In his next start MTR finished a fifth of seven in the G1 Champagne Stakes. He was then taken to the barn for some R&R. On December 24, 1999, MTR returned to the track for his first work since his disappointing Champagne S. Just about one month later, MTR finished in a dead heat with Summer Note in the G2 Hutchenson. The final time for the 7 furlong race was 1:21.76. In his next start in the G2 Lousiana Derby, More Than Ready finished 2 lengths behind a gutsy horse named Mighty. Although finshing second, MTR prooved that he could compete beyond sprinting distances. In the G1 Toyota Blue Grass S., going a furlong more, More Than Ready put in a great performance. Sitting just off the pace, he dueled with a a game High Yield throughout most of the stretch. In the final strides High Yield edged More out, but it was a great performance. The final time was 1:48.79. In the Kentucky Derby, where many good horses have run terribly, MTR ran good enough to place 4th in the huge Derby Field. Fusaichi Pegasus was the winner with a hand ride in 2:01.12. More Than Ready returned in the G2 Dwyer S. on July 9. After being bumped at the start, he finished second behind Albert the Great.

Keep an eye on this impressive horse and join his fan club by emailing Matt at MS0223@aol.com, or visit his website at www.angelfire.com/nd/MoreThanReadyFC/index.html.
~~~~~~~~~~~~~~~~~~~~~~~~~~~~~~
Forest Camp

This dark bay colt, born February 24th, 1997, in Kentucky, is owned by Aaron Jones. By Deputy Minister and out of La Paz, by Hold Your Peace, Forest Camp has a note-worthy pedigree. On August 2nd, he broke into the racing scene with a 2 length victory at Del Mar in his maiden special weight debut. His next start, in the 7 furlong G2 Del Mar Futurity, he beat the then undefeated Dixie Union by 5 ½ lengths, covering 7 furlongs in 1:21.67. After the impressive win, he finished second to Dixie Union by ½ length in the mile long G2 Norfolk Stakes. The stakes record time, run by Dixie Union was 1:35.79. In the G1 Breeder's Cup Juvenile, Forest Camp tired in the stretch after being right on the heels of the leader, who was setting fractions of 22.38, 46.02, 1:10.25, 1.35.99, 1.42.29. Anees came flying down the stretch, passing every horse in the field to set the winning time for the 1 1/16 mile race. In the G3 San Miguel 6 furlong sprint, Forest Camp was just edged out by a nose, finshing second to Swept Overboard. After staying close to the fast pace and dueling through the stretch gamely, Forest Camp just missed the spectacular winning time of 1:08.99. A few days later, the Jones' announced their decision to switch trainers, going with Eduardo Inda.
~~~~~~~~~~~~~~~~~~~~~~~~~~~~~~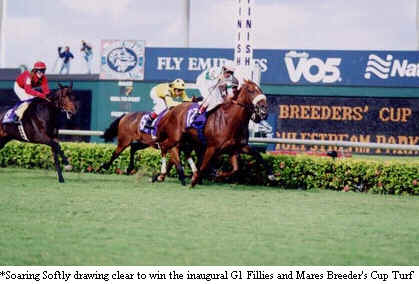 A bright orange blaze comes charging from seemingly nowhere. You can see the fireball coming but nothing can stop her as she comes hurling down the final stretch. Picking up speed with each second that passes. Looming closer and closer, she is unstoppable. Is it the end, Armageddon? Hardly. A savior really, or so Soaring Softly is seen in the eyes of trainer, James Toner. The '95 chestnut filly, by Kris S and out of Wings of Grace capped of a testing year with a bang for the trainer.

An average racer as a 2 and 3 year-old, she began the ascent to greatness when owners John and Joan Philips, and trainer, Mr. Toner, decided to try her on the grass as a 4 year-old. In her first two starts of the year, allowance races both, she ran to victory impressively. In the Vineyard Handicap, when she won again, Soaring Softly was bumped into a stakes caliber race in her next start, the G2 Sheepshead Bay Handicap. Faced with stiffer competition, she proved herself a worthy turf competitor, reeling in another win.

At this point the road started to get bumpy. One day in June, a freak fire started at Belmont Park. The fire was doused as quickly as possible, but not without a high price. The damage was done. Several horses were harmed from inhaling smoke and other side-effects of the fire. Tragically, that was not all. Three horses died, all Toner trained. To have three horses dead in such a short period of time is quite disheartening, to put it mildly. About a month later, Mr. Toner was diagnosed with skin cancer. He was devastated.

Soaring Softly was there, however, to pull him through in the darkest of times. She continued to work great and an explosive win in the G2 New York Handicap put Soaring Softly into serious contention for the inaugural Breeders Cup Filly and Mare Turf. After a 5th place finish in the G2 Diana Handicap some had their doubts. Toner didn't waver.

In her final prep race before the Breeders Cup and first grade 1 race of the year, Soaring Softly put in a convincing win in the G1 Flower Bowl Invitational. Following an extremely slow pace, the dynamic chestnut made an impressive move from far back. Passing horses left and right, jockey Jerry Bailey guided her to the finish line one length in front of 2nd place finisher, Correta.

Breeders Cup day came and attention was focused on Soaring Softly, the favorite. People still questioned, however, if she could overcome post position 12 and the predicted slow pace detrimental to her closing style. When the gates flew open, though, expert jock, Jerry Bailey, positioned Soaring Softly in an excellent spot about 5 lengths from the leader. As predicted, the fractions were slow, but when Bailey urged Soaring Softly to make her move after the opening mile, she took off after the leaders. A game Correta held briefly but the charging Soaring Softly in full stride was able to put her away by ¾ of a length in the final strides of the race.

Once in the winners circle an obviously grateful and loving Toner gave his chestnut savior a kiss. This was the final ascent to the stars after a long road from the depths of despair. Soaring Softly quietly worked his way to the top and soared through the last stretch to make a sonic boom. A happy ending to a Cinderella story.


~~~~~~~~~~~~~~~~~~~~~~~~~~~~~~

~~~

Contact me, email Kate,